INNOVATION: IN MOBILIS®' DNA FROM THE VERY START
In 1993, MOBILIS® was founded based on a radically innovative idea: to create the very first permanent protective casing for laptop computers!
strengthened and ergonomic protection for protecting your equipment when in use, given damage most often occurs when devices are in use rather than when they are being moved (see our white paper),
as well as semi-rigid protection for transporting your devices in complete safety.
This permanent protection has now become absolutely essential for tablets, hybrid PCs, smartphones, laptop computers and data-entry terminals.
Protective cases need to adapt to a constantly changing mobile IT device marketplace, as well as developments in what we're looking for as consumers. That's why we decided early on to develop and manufacture our products in-house. As a direct result, we benefit from significant experience and unbeatable agility to always be providing relevant and adapted solutions to new usage behaviour and requirements.
Integrated product development from A to Z: constantly ahead of the game
Our Design, Research and Development team is made up of 11 people:
8 colleagues at our Annecy headquarters, including 4 designers and 4 expert creators, all working on patterns, 3D designs, and so on;
2 prototype engineers at our French production site;
and 1 technical coordinator based in China.
The team focusses on:
creating new products and ranges (with 400 to 700 new products available per year);
developing bespoke solutions that respond to the specific demands of industry.
Our speed of execution and professionalism are based on our mastery of the arts of design and development, including trend monitoring and analysis, rapid prototyping, plastics processing, workmanship, material sourcing and testing, quality control, packaging, and more.
We use a range of proprietary resources, including 3D printing and scanning, automatic cutting machines, prototyping tools, as well as laboratory testing.
As a direct consequence, MOBILIS® holds several patents, such as the Perimetric Bumper, as well as the Shock Wave Absorber.
These skills for developing products and the resources we have available are also the keys to success for our OEM/ODM/retailer brand partners.
Industrial mastery: the key to our social and environmental responsibility
Made in France MOBILIS ENGINEERING & MOBILIS DEVELOPMENT
Our production site in Méreau (Cher - 18) in France, is the historic centre of our industrial capacity, which includes:
35 employees, 2 production lines, plus 1 fully automated cutting workshop;
annual production capacity of 450,000 products;
a logistics platform for the whole of Europe.
This factory plays a significant role in our environmental strategy: manufacturing in France rather than Asia, dividing the carbon footprint of every product by 7 as a result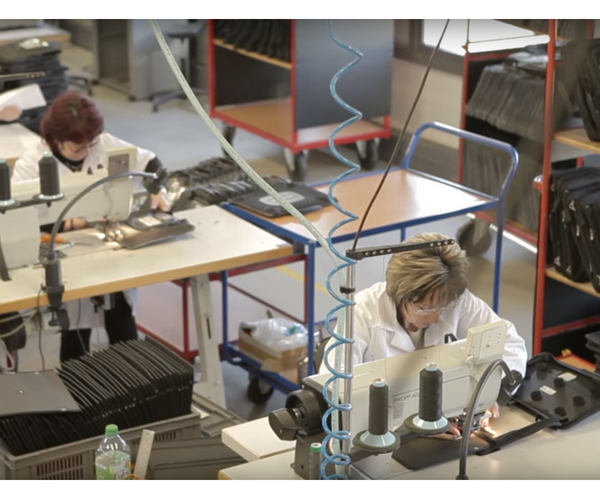 MOBILIS® – NATURALLY VERY 'FRENCH FAB'!
MOBILIS® is part of La French Fab, a movement of French industrial companies who innovate, create jobs, develop and reinvent themselves within local regions.

This can be seen in the way we:
- pay close attention to the role of our people within our operations
- enjoy performance backed by digital technology and new materials
- focus on international development
- work to reduce our environmental footprint and improve our energy efficiency - originality and innovation - quality and specialist knowledge, from design to manufacturing - typically French elegance and sophistication
MOBILIS® – French and it shows!
A network of specialist industrial partners in Asia
For product ranges where global production takes place in Asia (computer bags, safety cables, and so on), we take care to choose specialist manufacturers for each and every product category, ensuring we all benefit from their technical expertise and production capacities. We also closely monitor their ethical practice, particularly in terms of the working conditions of their employees, through the BSCI initiative thanks to our membership of the Amfori NGO.
BSCI standard
Helping to improve working conditions and environmentally-friendly practice.
As the 157th company to join AMFORI, the international association that works to defend the values of free but responsible trade, MOBILIS® is demonstrating its active approach towards promoting social and environmental standards.
In this context, we finance Business Social Compliance Initiative (BSCI) audits of our partners, which relate to:
our obligations in terms of respecting national and international legislation, health and safety in the workplace, freedom of association and rights of collective bargaining, prohibiting discrimination, child labour and forced labour;
environmental protection and best practice to manage waste, chemical products and other hazardous substances, processing emissions and effluent.
LOGISTICAL BENEFITS OF MOBILIS®: GUARANTEED HIGH-QUALITY SERVICE RIGHT UP TO THE END CLIENT
Beyond our total mastery of product development and industrial production, MOBILIS® offers a number of other decisive logistical assets, including two distribution platforms, the first in Châteauroux (Indre- 36) in France and the second in Shenzhen in China.
These operations are entrusted to the company GEODIS, leader in the messaging market in France and in the World.